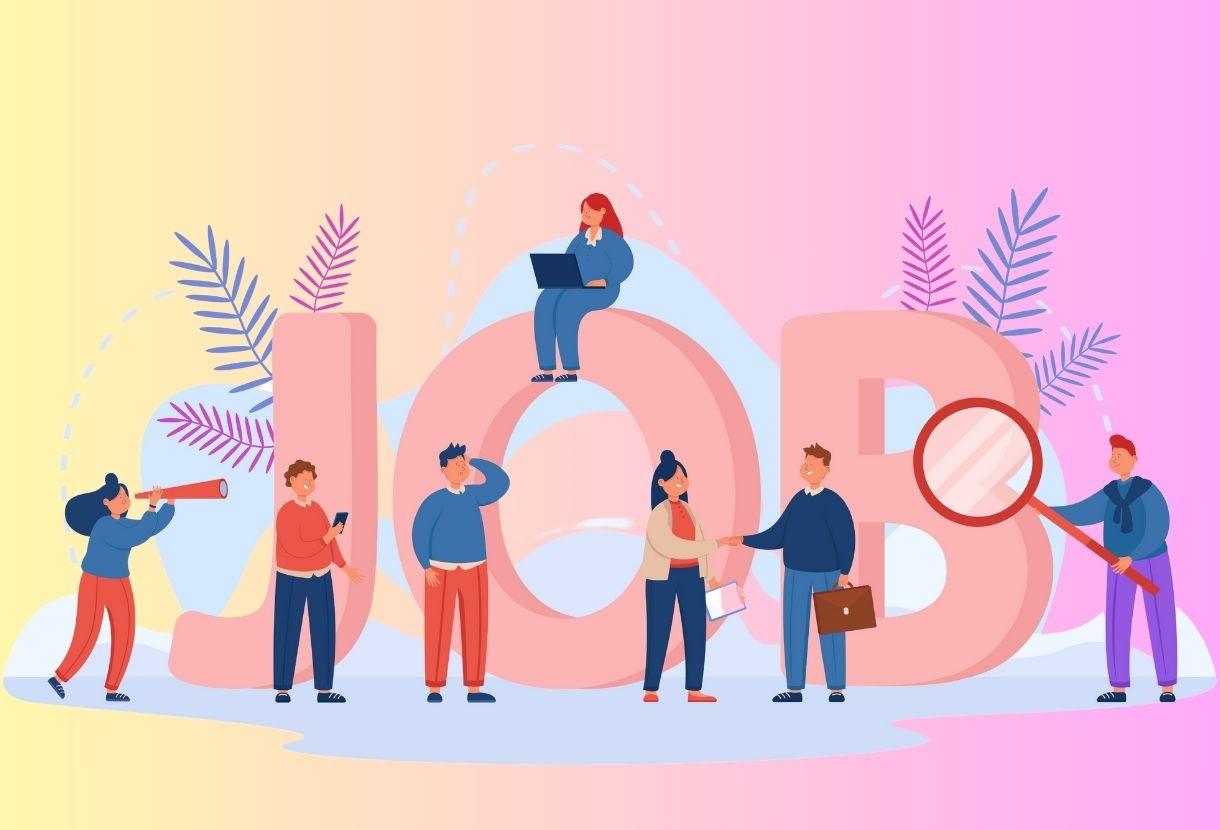 Trending Jobs
Job Information
Apply Job

Senior Data Engineer(2-3 years)

Abbott

Senior Analyst-RCA/CAPA(10-12 years)

IBM

Product Analyst(1-2 years)

Impact Guru

Oracle DBA(6-9 years)

Mount Talent

GEN AI ARCHITECT(4-8 years)

Wipro

Data Scientist, AWS(2-7 years)

Amazon Web Services
Are you embarking on your career journey and planning to pursue your first-ever job? It is completely understandable to have a lot of questions related to the salary structure. As working professionals, we all aim to prioritize financial stability; this concern from a fresher is no different.
With ever-growing industries with versatile profiles, the job market is getting stronger day by day. The wide array of options and opportunities post-pandemic has given us, there is a pool of exciting jobs for freshers that are coming every day.
However, preconceived notions like entry-level jobs dont pay well often make the candidates lose hope. But this concept is no longer accurate. Nowadays, employers have started prioritizing skill sets while making hiring decisions.
When there are selective candidates with desired skills, employers are ready to negotiate to retain them. So the question is- when you want to skyrocket your career with a handsome salary, what are the highest-paying jobs for freshers in India?
To find more, lets dive into the world of jobs for freshers, the salary they offer, and the required skills.
What Do You Mean By Entry-Level Jobs?
Entry-level jobs are usually the first step that we take on a career ladder. As the word says, entry-level jobs are framed for fresh college graduates who hold the basic degree of graduation or a diploma in a relevant field.
These positions dont require any additional degree or training except a basic qualification. In most cases, the candidates clearing entry-level job interviews receive on-site training to get insightful industry experience and exposure. In a few cases, some experienced professionals who switch careers also look for entry-level jobs for freshers in a new field.
What are the Top 10 High-Paying Jobs for Freshers in India?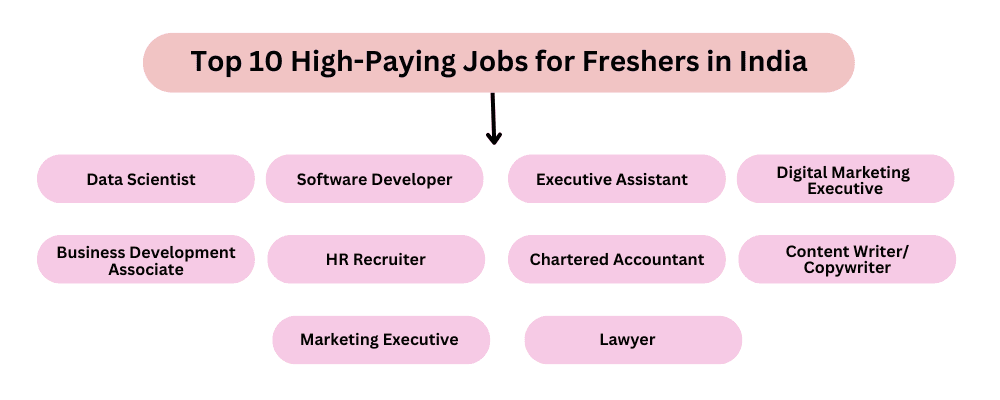 This article provides information on the top 10 highest-paying jobs in India. Kindly find the details below.
Data Scientist
Software Developer
Business Development Associate
HR Recruiter
Marketing Executive
Executive Assistant
Digital Marketing Executive
Chartered Accountant
Content Writer/Copywriter
Lawyer
1. Data Scientist
Working as a Data Scientist in India is challenging yet a thrilling experience. They are often found looking for relevant questions their team should ask and designing the frame of those questions using certain data. They also predict models and create algorithms to forecast outcomes and results.
Read Also:
Top 10 Work From Home Jobs Opportunities in India
Top 10 Work From Home Jobs for Housewives Without Investment
For example, if a company is looking to boost its sales by 10% then data scientists will algorithm to forecast future sales based on changes in advertising campaigns.
Essential Skill Sets
Statistical Analysis
Machine Learning
Computer Science
Programming
Data Storytelling
Business Intuition
Required Qualification: Bachelors degree in Computer or Mathematics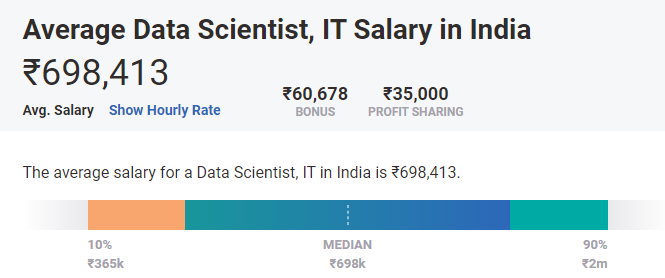 Source
2. Software Developer
Software developers or engineers leverage their programming and coding skills to design software that fulfills the requirements of users. These IT professionals are known to be great problem solvers who work in collaboration with product specialists and subsequently develop, test, and then launch the software based on the end users key needs. As long as you know how to code, there are ample opportunities in every industry for those who are looking for IT jobs for freshers.
Essential Skill Sets
Communication
Computer Programming
Coding
Software Testing
Python/Javascript and more.
Required Qualification: Btech/ BCA in computer science and coding skills.
3. Business Development Associate
A business development associate is one of the highest-paid jobs in India for freshers. They are responsible for supporting a companys sales, marketing, and product development campaigns. Their main job role is to research and identify potential leads who can be converted into customers.
They are responsible for market surveys and work on new ventures that can boost the companys revenue growth in the long run. Additionally, they closely work with different teams to boost sales and meet quarterly and annual targets.
Essential Skill Sets
Communication and convincing skills
Sales & Marketing
Leadership
Problem-solving
Project Management and more
Required Qualification: Bachelor or MBA in marketing, commerce, or any relevant field

Source
4. HR Recruiter
An HR associate or a recruiter works with the human resource department of a company. Their major work is to collaborate with hiring managers to upload job postings, screen suitable candidates, schedule interviews, handle payroll, release offer letters, conduct onboarding, perform basic administrative tasks, and attend to the grievances of the employees.
An HR professional is regarded as the representative of the company and has access to sensitive employee information. Therefore they should maintain the trust of the employer and staff.
Essential Skill Sets
Basic communication skills
Emotional Intelligence
Decision Making
Leadership
Work Management
Team Work
Patience
Recruitment
Required Qualification: Masters or MBA in Human Resource Management
5. Marketing Executive/ Associate
Just like the HR associate supports the hiring operations, similarly a marketing associate works with the marketing department of an organization. There are ample opportunities for a marketing professional across several industries. Their major job roles and responsibilities include writing a website blog, social media & email copy, coordinating during marketing campaigns, assisting with event planning & execution, and taking part in e-commerce and social media activities.
Essential Skill Sets
Marketing Strategy
Interpersonal Communication Skills
Content Marketing
Leadership
Content Creation
Required Qualification: Bachelors degree in marketing, economics, or business.
6. Executive Assistant
An executive assistant is considered the right hand of the CEO of the company. They are primarily responsible for offering support to the top management within the organization. This includes daily tasks such as answering calls, scheduling meetings, following up with clients, and vendors, and carrying out other office duties. They also manage the entire mail/fax communication in the CEOs office, manage the electronic filing system, and much more.
Essential Skill Sets
Management and organizational skills
Time Management
Great Communication Skills
Decision-Making Skills
Basic Computer Knowledge
Leadership
Problem-Solving
Required Qualification: Any bachelors or masters degree
7. Digital Marketing Executive
The role of digital marketing involves developing marketing strategies for online media to market the brand, service, or any business. The major key roles include utilizing social media and website content to do brand or product promotion. The person should also know how to possess SEO metrics and analyze analytic data and search engine statistics. A few digital marketing professionals also specialize in the email marketing vertical.
Essential Skill Sets
SEO & SMO
Data Analysis
Content Creation
Communication Skills
CRM and more
Required Qualification:A bachelors degree in marketing, business, or communications.

Source
8. Chartered Accountant
As a chartered accountant, you would be responsible for offering guidance on the companys financial matters, conducting audits, and creating financial reports. A qualified CA has expertise in taxation, forensic accounting, corporate finance, business recovery or insolvency, or accounting management. Chartered Accountant freshers can work in several organizations like public firms, public sectors, MNCs, E-commerce brands, and more.
Essential Skill Sets
Commercial Awareness
Knowledge of Regulatory Standards
Software Proficiency
Analytical Skills
Communication Skills and more
Required Qualification: Bachelors degree in commerce and qualified CA final course
9. Content Writer/ Copywriter
Content Writers are responsible for writing engaging and crisp content for websites, blogs, social media, scripts, white papers, YouTube videos, and other online/offline platforms. The content they write is tailored to attract the attention of the readers which further gets converted into views, leads, and online traffic. Their main responsibilities include leveraging analytics to make necessary changes in the content, maintaining the consistency of blogs, and landing page descriptions, and pitching content that has good CTA.
Essential Skill Sets
Creative thinking
Language Proficiency
Great Writing Skills
Marketing/Communication Skills
Strong Hold on Grammar & Vocabulary
Time Management
Required Qualification: Bachelors degree in journalism, marketing, or English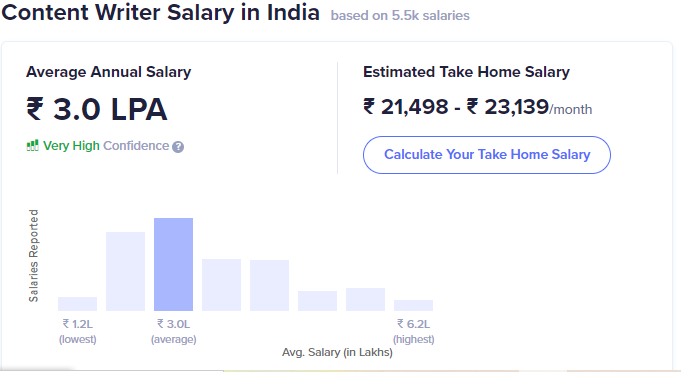 Source
10. Lawyer
Lawyers, also referred to as attorneys, are qualified legal professionals who provide legal advice and assistance to their clients which can be both individuals or any organization. They counsel clients over legal matters, conduct legal research, draft legal paperwork, and represent clients in both criminal and civil courts. As a lawyer, a person can either practice independently or work with any law firm.
Essential Skill Sets
Great Convincing Skills
Creative Thinking
Decision Making
Time Management
Interpersonal Skills
Observation Skills and more
Required Qualification: Bachelors degree along with LLB
Latest Category Jobs
Job Information
Apply Job

Senior Data Engineer(6-8 years)

slice

Data Analyst - EMEA(1-4 years)

AMERICAN EXPRESS

Client Service Executive for Medical Billing -17k to 28k Ahmedabad(0-4 years)

Arise Solution

Azure Architect BigData,Data modeling(4-7 years)

TATA CONSULTANCY SERVICE

Hiring For AWS Data Engineer(3-6 years)

Cognizant

PROMPT AI ENGINEER(1-5 years)

IBM
Conclusion
Every year millions of youngsters pass out of college and apply for jobs for freshers. Each one of them has the same goal grab the job of their dreams with a high pay scale. While having good grades and rich internship experience counts as an add-on, having the right skill sets plays a game-changer role. To truly stand out in the crowd of applicants, job seekers should know how to leverage their soft skills to convince employers. As a fresher, if you know your capabilities and which job role matches your skills, half of the battle is already won. With that in mind, if you can impress the hiring team during an interview, nothing can stop you from landing a high-paying job for freshers in India.
Frequently Asked Questions
To become a successful content writer, one must have a strong command of the language and basic knowledge about the niche you are working on. The writer should have the skills to adapt to different writing styles, strong research skills, a good understanding of SEO, and more.
A person can pursue law only after completing the intermediate. Those looking to pursue law right after school can apply for a 5 years old integrated program like BA-LLB or B.com-LLB. After this course, the candidate can also pursue a masters in law (LLM).
As a digital marketer, your main task is to create brand awareness online for the audience. They leverage different marketing tools for managing digital marketing channels for driving website traffic and convert the leads into conversions.
There are many highest-paying jobs in India for girls that offer a huge salary according to their profiles. Some of them are:
1. Doctors and Surgeons
2. Corporate Lawyers
3. Investment Bankers
4. IT Professionals
5. Management Consultants
6. Software Developers
Create Your Free Job Alert